maps
Granted, there are several limitations to current image map implementation as it applies to this use (but no "show-stoppers");
it only works over the HTTP protocol, making it unusable for reading local files or files accessed via alternate protocols.
a server transaction is required merely to determine where the link is directed. This can degrade performance noticeably when accessing distant sites.
unlike for normal links, there is no way for a browser to provide visual feedback to the user by showing where a portion of an image map leads before the user actually clicks on it.
the implementation of image maps is server-dependent, compromising portability of documents. (for more considerations)
The Importance of Sites (and SiteMaps)
For thousands of years certain sites on our planet have meant .....................much much more to us than other places. ...................Temples, monuments........... and burial grounds would be such................................examples. Even today, man goes to great effort and ...................................................expense to keep from treading on such holy places.

The same is really ................................ true of the......................... places on the internet. Some ................sites are certainly more ..........................sacred than others. No matter what ..............most web pages are about ........................I believe that the "sitemap" deserves extra, special consideration..............................In many respects it is the soul of a website, because it contains the ..............................directions to all the riches that the site contains. It provides direct.............................. transport to the content that you deem most valuable. No other .............................page on your entire site carries that significance. Your sitemap deserves much greater effort and expense than any other page you have (certainly more than those splashy Flash intros that seem to be in vogue these days).

Over the years, your pages will..........................be changed, your site will evolve, and your entire organization may ..........................be overhauled several times. Through these generations of changes ...........................the role of your sitemap will remain steadfast. It will be there to ............................ show the way to millions of internet visitors who travel great .................................. cyber distances to come to get to your website. Don't disappoint them.

People often wonder why I am so focused on net navigation and site mapping. When they see the maps I have created (and read this), they get a much better sense of why I do what I do. I will work with the same care and attention when I map out your site with you. Let me know when you are ready to create this very special place on your website.
World's Best SiteMaps® (ever used on the Web)
Nominate a"best" website by emailing us your recommendation
Here is the criteria to use;
Here is a sitemap from the "king" of mindmapping;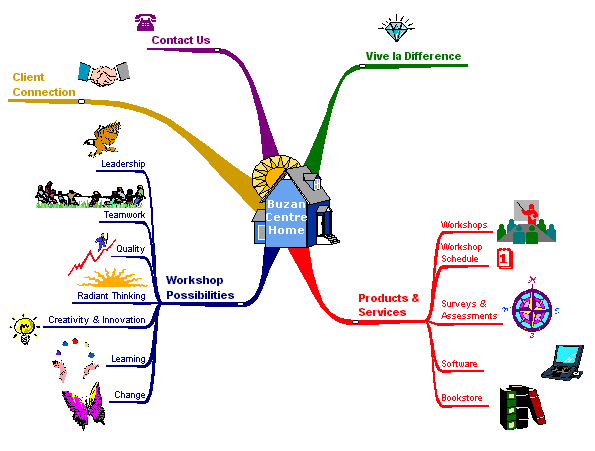 Here is another good example;
Using a geographic metaphor;
This is a screen capture of the ' sitemap from; http://www.umbershoot.com/en/sitemap.html
(can you find a couple of the hot links?)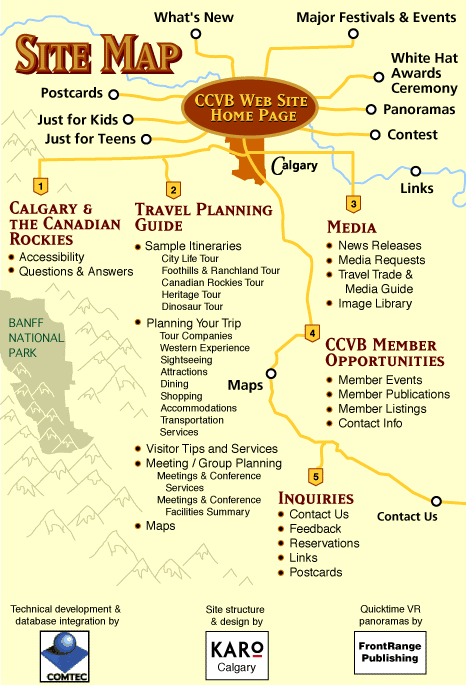 Here is the infamous Apple classic two-level circular design that was replaced by a table design during Apple's reorganization in 1997;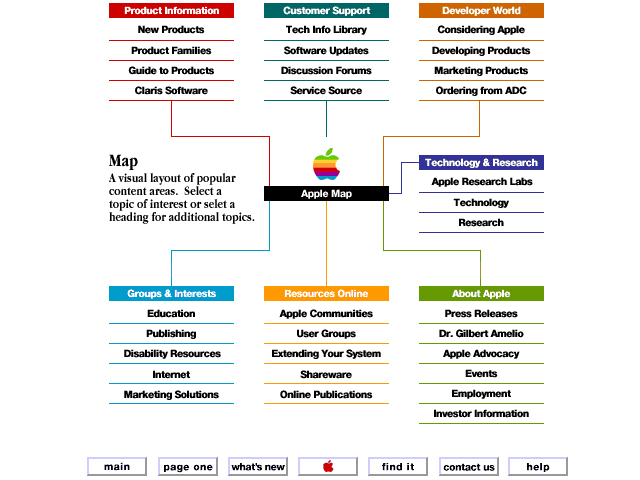 A "Main Street" navigational metaphor (with 8 live 'hotspots' for you to find)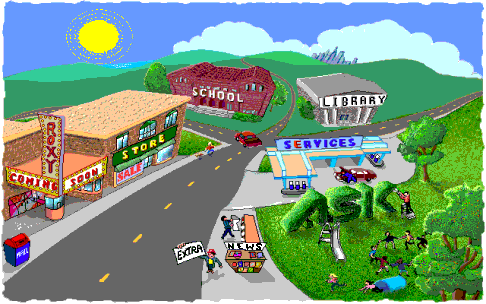 (credit: askintl.com)
this approach is based on "image mapping " technology
Rollover this Guide (to see how the very familiar map of London's subway system provided the inspiration for this cleaner "sitemap" image;
Any parabolic search engine fans among us(?)...

Here is the intergalactic UBUBU approach to "site"mapping;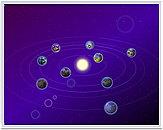 Preliminary Findings on the Use of Sitemaps
Have a look at the Rare Medium sitemap today
For an overview of web site mapping issues see; http://www.dynamicdiagrams.com/seminars/mapping/maptoc.htm
Watch the Macromedia sitemap go downhill over the past 4 years at; http://venus.dynamicdiagrams.com/seminars/mapping/map5/macro.htm
http://www.cybergeography.org/atlas/web_sites.html (contains an Atlas of Cyberspaces - Web Site Maps)
http://www.infind.com/infind/infind.exe?query=site+map&x=34&y=8 , Inference Find! -- Server 45
http://corp.aol.com/sitemap.html (for AOL Corporate's "sitemap")
http://cbs.marketwatch.com/news/site_map.htx?source=blq/go (for CBS.MarketWatch.com - CBS MarketWatch Site Map)
http://www.spinoffcentre.com/sitemap.html
http://strategis.ic.gc.ca/sc_mrksv/cipo/sitemap/site_map-e.html#a , Canadian Intellectual Property Office - Site Map
Here is an approach to software navigation that we are currently developing;

Rollover that "zooms"? to the Boston Harbor area;


(SiteMap) "Watch"
these images show that we are focusing live to the web sitemaps that follow;



Construction
****************************************************************
Under
| | | |
| --- | --- | --- |
| | Integrating dubya3.net's Interactive Maps | |
| | | |
dubya3.net allows you to integrate active maps into your website using any combination of four options: hyperlinks, icons, thumbnails and embedding. These options allow you to incorporate dubya3.net active maps, while maintaining the distinct layout and design of your website.

There are a variety of convenient ways to incorporate active maps and interactive maps into your website:



Embedded Format


Integrating dubya3.net's Interactive Maps
Now dubya3.net's active maps are even easier to integrate into your website. Our new interactive maps organize the active maps and give your users a truly interactive environment. Users control what active maps they see and gain the benefit of knowing where each concept is situated in relation to other areas on the map.


Embedded Maps




Embedding a virtual map or tour directly into your page is one of the best ways to feature this technology on your website. To ensure a quick download time try using a small format image (ie less than 50K), or limit each page to only one embedded map or virtual tour.

Pop-Up maps


This option allows you to place a small icon on your website that links to a pop-up window containing the maps you have purchased. Your website's users can then drill down to view the maps and tours they are interested in seeing by clicking on the icons (the new pop-up window then becomes their viewer).

Embedding a map directly into your web page is one of the best ways to feature this technology on your website. To ensure a quick download time try using our small format image (which is less than 50K), or limit each page to only one embedded map or virtual tour.


Here is a "moving example" of how this works;





Embedded Maps Using only a single piece of code on one page of your site, these multi-layer maps are simple for you to implement yet offer users the opportunity to view a wide variety of different maps. Take a map of the Hawaiian Islands for example — when a user clicks on an individual island, such as Oahu, the chosen island's map appears without you having to build a separate page. When the user gets to a map that contains virtual content icons they can click on any one of them, and a pop-up window will appear showing the chosen map without requiring you to add any additional code to your webpage.




Hyperlink Format

A hyperlink is a highlighted text caption that will link your customers to a map. This format is ideal for websites that are short on space or for listing various maps in a list or paragraph. Simply use the code we send you as the hyperlink for specific words or graphics listed on your page.

When you are short on space use icons throughout your website to hyperlink users to virtual tours and interactive maps.

Click on the icon to take a virtual tour! (icon)




Example


Link your site to a virtual tour of Miami Beach



Icon Format

Your selected tours can also be linked from an icon. Use this format in places where you are short on space or on pages with multiple active maps. You can choose the icon provided by dubya3.net or you can create and use your own.


Example



Click the icon to view a virtual tour of the ancient Mayan Ruins



Thumbnail Format

Instead of using a generic icon to represent the link to a virtual tour you can use a thumbnail (a small static image) of the map itself. Thumbnails come in various sizes making them easy to integrate into any web page.


Example



Wrap text around
the thumbnail to
seamlessly integrate the
active maps with
the rest of your website.




| | | |
| --- | --- | --- |
| | | |
ThumbNails;
<

Thumbnail Examples:





Small pictures, known as thumbnails can be used to link users to virtual tours. These "Thumbnails" come in three sizes shown below.


Hot Spots

The British Virgin Islands are a great place to spend your holidays! Take a look at these scenes of Frenchman's Cay.



Large Thumbnail

Standard Thumbnail


Things are heating up in Miami, Florida! Click below for a look at the scene from Miami Beach.



Small Thumbnail
Preliminary Findings on the Use of Sitemaps By Michael Bernard (http://wsupsy.psy.twsu.edu/surl/Sitemap.html) "...However, participants using the Exxon site significantly [t (16) = -2.55, p < .05] were more satisfied with the completeness of the site when the sitemap was used as a navigation tool. .... it did support the notion that sitemaps may allow for the user to better perceive the organization of the site and, hence, reduce their sense of "lostness".
The cemetary of dead links;
Interactive Maps - General
Interactive Maps - Java
Interactive Maps - VRML
Interactive Maps - Animations